Hello Subscriber!
Here you have the Mars Society Netherlands' first newsletter in 2021. And it is not only the first newsletter of this earthly year, but the first of the Martian year 36 as well. This year promises to be an exciting year for us Mars adepts. While I'm writing this, two of the three probes launched last year have arrived in orbit around the red planet. The Mars Society Netherlands congratulate the UAE and Chinese space agencies for reaching this milestone. And more is yet to come soon. It will only be a few days before NASA's spaceship will reach Mars and the Perseverance rover will touch down. In May this year the Chinese rover will touch down on the planet's surface as well. We would have loved to organize a social gathering around one or more of these events, but Covid 19 stood in the way. Luckily we can join the international Mars Society online. More on that later in this newsletter.
Recommended: Once Upon a Time I Lived on Mars
When it comes to Mars, the focus is often on how to get there: the rockets, the engines, the fuel. But upon arrival, what will it be like?
In 2013, Kate Greene moved to Mars. That is, along with five fellow crew members, she embarked on NASA's first HI-SEAS mission, a simulated Martian environment located on the slopes of Mauna Loa in Hawai'i. For four months she lived, worked, and slept in an isolated geodesic dome, conducting a sleep study on her crew mates and gaining incredible insight into human behavior in tight quarters, as well as the nature of boredom, dreams, and isolation that arise amidst the promise of scientific progress and glory.
In Once Upon a Time I Lived on Mars, Greene draws on her experience to contemplate humanity's broader impulse to explore. The result is a twined story of space and life, of the standard, able-bodied astronaut and Greene's brother's disability, of the lag time of interplanetary correspondences and the challenges of a long-distance marriage, of freeze-dried egg powder and fresh pineapple, of departure and return.
By asking what kind of wisdom humanity might take to Mars and elsewhere in the Universe, Greene has written a remarkable, wide-ranging examination of our time in space right now, as a pre-Mars species, poised on the edge, readying for launch.
Activities: Facebook Watch Party
For those of you who use Facebook, the Mars Society will be hosting a watch party for the landing of Perseverance on the surface of Mars on Thursday February 18th. They invite everybody to join this live Facebook event, which will last from 20.45 - 22.45 (CET). You can visit the Mars Society's Facebook page for more details and to join the live stream on February 18th. 
During this event, an online chat room will operate along side the broadcast, with participants able to ask questions and make comments. Senior members of the Mars Society, including its president Dr. Robert Zubrin, will be online as well.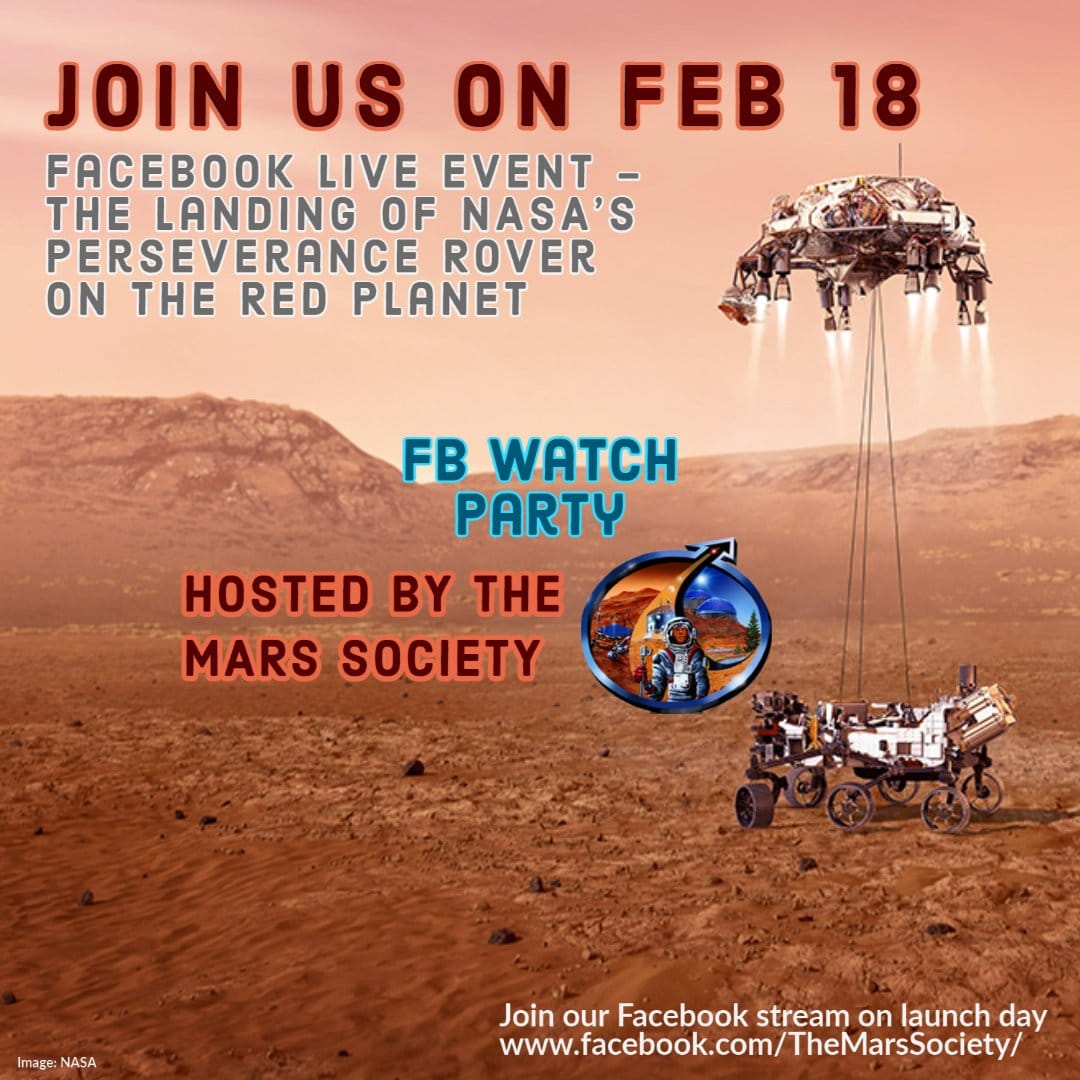 Further News:
Watch live: ESA outlines its search for astronauts

For the first time in over a decade, the European Space Agency (ESA) is seeking new astronauts. Tune in to ESA Web TV on Tuesday 16 February from 13:00 CET (12:00 GMT) for briefings in six languages and all you need to know. Each briefing will be one hour long, with ESA experts and astronauts outlining the selection criteria and desirable traits for astronauts. They will also provide further detail around the Parastronaut Feasibility Project and astronaut reserve, as well as ESA's vision for the next 10 years of human and robotic exploration.

The Unusual Rocket Thruster That Will Send Humans to Mars

A Department of Energy (DoE) physicist has a new nuclear fusion rocket concept that uses magnetic fields to make thrust. It's a far-out idea that could carry astronauts to Mars.

Could the Surface of Phobos Reveal Secrets of the Martian Past?

The Martian moon Phobos orbits through a stream of charged atoms and molecules that flow off the Red Planet's atmosphere, new research shows. Many of these charged particles, or ions, of oxygen, carbon, nitrogen, and argon, have been escaping Mars for billions of years as the planet has been shedding its atmosphere. Some ions, scientists predict, have been smashing into the surface of Phobos and could be preserved in its uppermost layer, according to a paper published on Feb. 1 in the journal Nature Geoscience.

ExoMars discovers new gas and traces water loss on Mars

Sea salt embedded in the dusty surface of Mars and lofted into the planet's atmosphere has led to the discovery of hydrogen chloride – the first time the ESA-Roscosmos ExoMars Trace Gas Orbiter has detected a new gas. The spacecraft is also providing new information about how Mars is losing its water.
Marssociety Netherlands
kvk nr. 75798964